TECHNOLOGY AND EXPERTISE AT YOUR SERVICE
Level Service is a company that provides technical and creative resources for the realisation of major events.
We support our clients' needs from concept to production of theatrical performances, TV shows, trade show set-ups, conventions, concerts, with great attention to all phases of design, technical implementation and service.
We follow the entire project in all its phases from production to development from planning to coordination, all the way to realisation.
Thanks to our know-how and continuous research of the most ideal technologies for the entertainment industry, we are able to select the best technical solution for the optimal realisation of the event.
Level Service provides its services on the
territory both national and international We provide technology and
resources for any type of event We help the client to make ideas happen
We take care of media production, from the design to live editing
We provide technology and
resources for any type of event
We help the client to make ideas happen

We take care of media production, from the design to live editing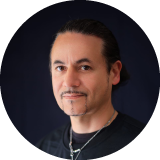 Gianluca Brolli
Founder & CEO